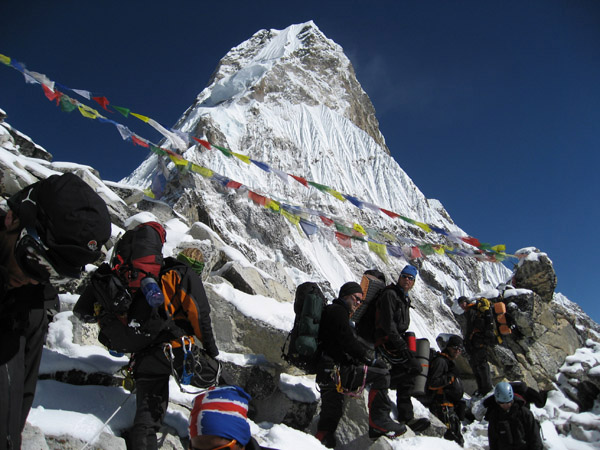 Ama Dablam – 6812 m
This is technically difficult with a combination of rock and ice climbing and represents a very demanding proposition even for experienced climbers.
After a beautiful trekking we turn our attention to Ama Dablam and travel to Base Camp confident of our ability to succeed. Under the guidance of a leading mountaineer, you will be participating in an adventure-packed itinerary that promises to be extremely rewarding.
Ama Dablam Climbing in detail
The normal route to climb Ama Dablam is from its South- West ridge. Most of the mountaineering beginners start their climbing through this Mt. Ama Dablam 6812m. Ama Dablam is a small snow-capped peak of 6812m lying in the Everest region. This South – West ridge is the normal and most popular route to ascend the Mt. Ama Dablam.
This mountain is considered to be the technical & difficult for climbing. The mountaineers have to cross-difficult ice rocks and steep snow climbing on their route. Mountaineers usually have to pitch 3 high camps while climbing Ama Dablam 6812m.
The climbers have to pass the toughest and the difficult passing through the saddle ridges and then should turn to the north, climbing up through the rocky ground and through the boulder from base to camp 1.
We are in Camp one now. From Camp I - one has to cross the rocky bowl and should climb the ridge through fixed lines to Camp 2.
The climbing route from Camp 2 is mostly with the steep mixed alleyways of rock, ice and snow. The route leads to the slope following snow ground and then passes through steep snow and ice tunnel then finally along the snow ridge go to Camp 3. From camp 3 to the summit is steep climb on snow and ice to the right of a huge hanging glacier.
From the Top of Mt. Ama Dablam very charming sceneries of Mt. Everest, Lhotse, Island peak, Makalu, Khumbu Himal and rest of the snow-capped surrounded mountains can be envisioned.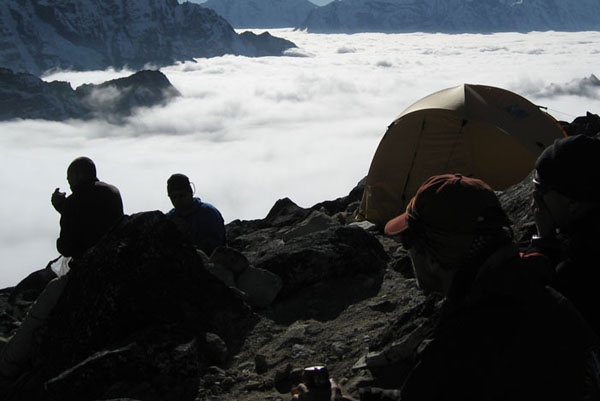 Day – to – day program
ADBC = Ama Dablam Base Camp.
ABC = Advanced Base Camp.
ADBC = Ca. 4600 m.
ABC = Ca. 5300 m.
Camp 1 = Ca. 5700 m.
Camp = Ca. 6000 m.
M.Ridge = Ca. 6200 m.
Camp 3 = Ca. 6300 m.
Summit = 6812 m.
Ama Dablam – The Trekking period.
Day 1 Arrival Kathmandu. Transfer to Hotel.
Day 2 Kathmandu.
Day 3 Kathmandu – Lukla – Phakding.
Day 4 Phakding – Namche Bazaar.
Day 5 Namche Bazaar.
Day 6 Namche Bazaar – Tengboche.
Day 7 Tengboche – Pangboche.
Day 8 Pangboche – Ama Dablam Base Camp.
Day 9 ADBC
Ama Dablam – The Climbing period.
Day 10 ADBC.
Day 11 ADBC – ABC – ADBC.
Day 12 ADBC.
Day 13 ADBC – Camp 1. ( ABC )
Day 14 ( ABC ) Camp 1 – Camp 2 – Camp 1.
Day 15 Camp 1 – ADBC.
Day 16 ADBC.
Day 17 ADBC.
Day 18 ADBC – Camp 1.
Day 19 Camp 1 – Camp 2 / Mushroom Ridge / Camp 3.
Day 20 Camp 2 / Mushroom Ridge / Camp 3 – Summit – Camp 2 / Camp 1.
Day 21 Camp 2 / Camp 1 – ADBC.
Day 22 Extra day.
Day 23 Extra day.
Day 24 ADBC – Namche Bazaar.
Day 25 Namche Bazaar – Lukla.
Day 26 Lukla – Kathmandu.
Day 27 Kathmandu.
Day 28 Kathmandu – Transfer Airport.
Price
1 – 4 pax : 4180 USD.
5 – 8 pax : 3740 USD.
9 or more : 3410 USD.
Price includes
All permits.
All domestic transport as flight, bus, transfers.
Hotel in Kathmandu.
Accommodation in Lodges during the Trek and in tents during the Climb.
Food, 3 meals a day on Trekking/Climb.
Guide & Porters.
Insurance for Guide & Porters.
Price not includes
Personal insurance.
Emergency evacuation by Helicopter.
Lunch & Dinner in Kathmandu.
Tips.
Personal expenses like chocolate, hot shower, mineral water, beer, wine…