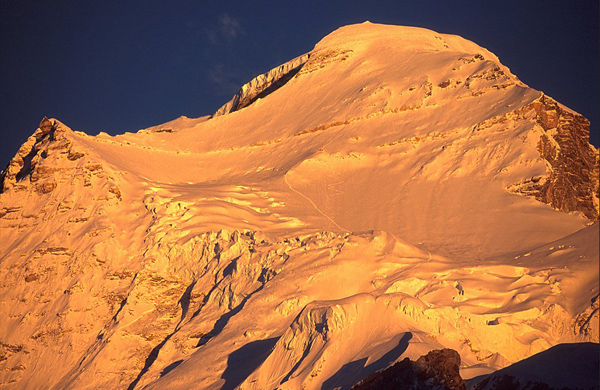 Cho Oyu Basic facts and location
At 8 201 meters, Cho Oyu is the sixth highest mountain in the world. It is located on the border of Tibet (China) and Nepal about 20 km to the west of Mount Everest.

Just west of Cho Oyo, at about the location of Advanced Base Camp, is the Nangpa La, a 5500 meter glacier pass which is a major trade route between the Khumbu Sherpas and Tibet. The border trade is a bit curious, as Nangpa La also is famous for illegal border crossings, but still authorities on both sides most of the time turn the blind eye on the trade. Long caravans with yaks can be seen here at all times of the year.
In the post-monsoon climbing season of 2006 all this changed dramatically, when Chinese border police shot some refugees to death at Nangpa La.

Some climbers claim that Cho Oyu is the easiest 8000 meter peak (if anything over 8000 meters can be called easy!). There's no really technical sections and the objective dangers are close to non-existent. Base Camp is accessible by jeep and it is possible to reach Kathmandu in a very long day from Base Camp.

The name

Cho Oyu is translated in Tibetan as "the Turquoise Goddess", from chomo=godess and yu=turquoise. This derivation of the name is not certain and other "translations" of the name includes "Mighty Head" (Tichy) and "God's Head" (Harrer). Another alternative translation of the name is "bald god". This makes sense looking at a Tibetan legend, where Cho Oyu, the bald god, has his back turned to Chomolongma, the mother goddess, because she refused to marry him.
Climbing History
Cho Oyu was the 5'th of the 8000 meter peaks to be climbed. The order was: Annapurna, Everest, Nanga Parbat and K2.
1954 The team trespassed illegally into Tibet over the Nangpa La and climbed what later became the normal route on the west face. On the 19'th of October, 1954, Austrian climbers Tichy and Jochler, together with Indian citizen Pasang summited.
1983 Messner, Kammerlander, Dacher climbed the peak alpine style with three bivouacs. It was Messner's 10'th 8000'er. They climbed via a part new route on the south-west side.
1984 Czechs Komarkova and Sterbova makes the first female ascent and repeated Messner's line.
1985 In February Cho Oyu was climbed for the first time in the winter. It was the fourth ever ascent of an 8000 meter peak in winter. On top of that, it was made on a new route, the hard south ridge. Berbeka & Pawlikowski summated the 12'th of February and Heinrich & Kukuczka followed three days later.
Cho Oyu got more and more popular in the 80's and soon it became the 8000'er with the most ascents after Everest.
Getting there
If climbing from the Tibetan side, there are two main ways to get there from Kathmandu, Nepal

Fly from Kathmandu to Lhasa, Tibet.
The flight to Lhasa passes Everest and some of the other 8000 meter peaks. On a clear day, it is a spectacular flight. After acclimatizing in Lhasa, drive overland for two days through Shigatse to Tingri. From Tingri it is a two hour jeep trip to Base Camp. This route is a great way to see Lhasa and other parts of Tibet as well as allowing time to acclimatize.

From Kathmandu to Overland to Cho Oyu
From Kathmandu to Tingri it usually takes two days minimum to drive, but it is advisable to stop on the way for acclimatization in. If not you're going from about 800 meters to 5150 in one go.
The drive between Tingri and BC can have some excellent views of the upper sections of the north side of Everest in addition to great views of Cho Oyu.

Once at Base Camp, it is an easy two day hike to Advanced Base Camp (ABC) where expeditions spend the majority of the time.
When to Climb
There are two seasons, not counting the alternative of climbing in the winter season. Pre-monsoon and post-monsoon.

The pre-monsoon season has its advantages in terms of a warmer summiting period. You usually start acclimatizing in early spring and the most common period of trying for the summit is in the end of May to early June. When you arrive there it can be bitterly cold, but it gets warmer by the day and hopefully you'll have a warm and nice day for the summit. This is why many climbers choose to go before the monsoon. The disadvantages are the constant time limitation the upcoming monsoon holds. Also, the weather can change quickly from no wind and sun to really bad in a matter of half an hour.

The post monsoon usually holds more stable weather, but when it's bad, it's usually really bad. The violent fall and early winter storms can be ferocious. On the other hand, there's no real deadline for the post-monsoon season. As long as you can deal with the cold, you can attempt the summit late in the year. Usually climbers try to be ready for a summit attempt in late September or early October. The skies are usually very clear after the monsoon and the fall of Tibet is beautiful.

There have been winter attempts and ascents, some of which have ended in disaster, but also some successful ones.
Routes
There are a number of routes on Cho Oyu. By far the most popular is the western face in Tibet. The mountain is rarely climbed from Nepal, but routes do exist.
The West Face sees the most number of attempts. The crux of the climb is generally considered to be the ice fall between Camp 1 and 2 at around 6700 meters. With the number of groups on this route, this section is usually well fixed with ropes. The second crux is the rock band above Camp 3 at around 7600 meters. Because of the strenuous nature of hauling yourself up at this altitude, this section has stopped a number of would-be summiteers. This section is usually done in the dark on the way to the summit which only adds to the challenge.

From ABC to Camp 1 is a moderate hike along the glacier moraine followed by a short, but steep hike up a very mobile screed slope. Depending on the time of year, the top of the screed slope can be snow and ice. Trekkers can often reach Camp 1.
From Camp 1 up the route is over snow and ice.
Program. Day – day. The West Face.
Day 1 Arrival Kathmandu
Day 2-3 Kathmandu
Day 4 Kathmandu – Kodari 2700 m
Day 5 Kodari – Nyalam 3300 m
Day 6 Nyalam
Day 7 Nyalam – Tingri 4000 m
Day 8 Tingri
Day 9 Tingri. Acclimitation to 4500 m
Day 10 Tingri – BC 4600 m
Day 11-12 COBC
Day 13 BC – I Camp 5200 m
Day 14 I Camp – ABC 5700 m
Day 15-16 ABC
Day 17 ABC – Camp I 6400 m
Day 18 ABC
Day 19 ABC – Camp I
Day 20 Camp I - ABC
Day 21 ABC
Day 22 ABC – Camp I
Day 23 Camp I – Camp II 7200 m – Camp I
Day 24 Camp I - ABC
Day 25 ABC
Day 26 ABC – Camp I
Day 27 Camp I – Camp II
Day 28 Camp II – ABC
Day 29-31 ABC
Day 32 ABC – Camp I
Day 33 Camp I – Camp II
Day 34 Camp II – Camp III 7600 m / Summit 8201 m – Camp II
Day 35 Camp III – Summit – Camp II / ABC
Day 36 Camp II / ABC – ABC / BC
Day 37-39 Extra day
Day 40 COBC – Tingri
Day 41 Tingri – Kodari
Day 42 Kodari – Kathmandu
Day 43 Kathmandu
Day 44 Departure Kathmandu
Price
1 – 4 pax : 11200 USD.
5 – 8 pax : 10800 USD.
9 or more : 10100 USD.
Price includes.
All permits.
All transport in Nepal & Tibet
Hotel in Kathmandu
Accommodation in Lodges on the way, in tents during the Trek / Climb
Food, 3 meals a day on the way & during Trekking/Climbing
Guide & Porters
Insurance for Guide & Porters
Liaison officer
Price not includes:
Personal insurance
Emergency evacuation by Helicopter
Lunch & Dinner in Kathmandu
Tips
Personal expenses like chocolate, hot shower, mineral water, beer, wine…
Oxygen
Words of Warning
Because of the relatively low objective danger, this tends to be a very popular mountain with climbers attempting their first 8000 meter peak. Because of this, it tends to be crowded. It also lures a significant number of people that underestimate the difficulties. The climbing is straight-forward, but the serious effects of altitude make this a challenging mountain. It is still the 6th highest mountain in the world!

The weather can be unpredictable and very dangerous to the unprepared. The wind and cold can be intense, and frostbite is common. There can be a serious avalanche danger in the post monsoon season. Numerous people have died on the mountain. It is not a mountain to be taken lightly.